Please add it to your kitchen knife collection.
This is oil quenching products of traditional craftsman Kenichi Shiraki.
It was forged by Mr. Shiraki at least 10 years ago and was sharpened in 2020.
According to the sharpener, the steel has become very hard after 10 years of
aging. Once sharpened, the steel does not harden over time.
This is a valuable one because he is already retired.
Occasionally found, but often not for sale.
If possible, we recommend that you sharpen with a natural whetstone.
Youtube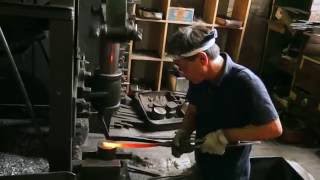 Shiro Knives by Carter Cutlery and Kenichi Shiraki
Specification
Rust prevention:
We ship with rust-stopping oil.
Use applications:
Suitable for slicing sashimi by drawing.
Country/Region of Brade:
Sakai / Osaka Pref./ Japan
Blacksmith:
Kenichi Shiraki (Retirement)
Sharpener:
Shigehiro Kasahara (Traditional Craftman)
Knife Type:
Yanagiba Kiritsuke
Constraction of Knives:
SIngle Edge (Bebvel)
Steel Type of Cutting Edge:
Japanese Carbon Steel
Steel Name:
White #3 Steel
Forge Welding:
Honyaki (Mono Carbon Steel)
Forging Method:
Free forging
Quenching Methood:
Traditional Oil Quenching (Mono Steel)
HRC (Rockwell hardness):
Unmeasured
Finish and design:
3 Side Mirror finish
Hamon (Wave)

During quenching, a wave-like pattern appears by placing mud on the knife. It is called a Hamon in Japanese.

 

 

:
Wave Floating (Namiukashi)
Handle Tyep:
Octagonal ebony
Joining Handle:
Handle will be attached and shipped.
Dominant hand:
Right-handed
Note of Use:
Since the blade can chip or break, do not attempt to cut, hit or chop frozen products or hard bones.
Maintenance:
this is a high carbon steel knife, the knife rusts easily,which requires special care. Apply oil if for long-term storage. Also use a sharpening stone to maintain the sharpness of the blade.
Product contains:
Saya(sheath)
Remark:
Professional use (for top chef )
Display Goods:
Knife holder is not included.
Important Notice
*Colour and shape can differ from the photo and actual product due to camera and lighting.
*Also, you may see difference in colour due to the oil applied to protect from rust.
*For handmade products, there may be small scratches. There is no problem in use at all.
*In addition, vintage products may have minor scratches due to long-term storage.
*Wood products may age over time.
Please check the image well before purchasing.
Questions