Youtube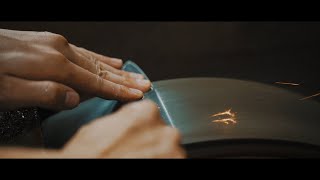 山脇刃物製作所
Specification
REMARKS&NOTE:
The image is a representative image of this product. Since they are all 100% handmade, there are subtle differences in the blade pattern and bend etc.of each product. Please check the detailed information for the size of each product.
Use applications:
Suitable for slicing sashimi by drawing.
Country/Region of Brade:
Sakai / Osaka Pref./ Japan
Sharpening workshop:
Yamawaki Cutlery-Sakai Osaka
Constraction of Knives:
SIngle Edge (Bebvel)
Steel Type of Cutting Edge:
Japanese Carbon Steel
Steel Name:
Blue #1 Steel and Soft iron
Forge Welding:
Double Welding (Hagane on Soft Iron)
Forging Method:
Free forging
HRC (Rockwell hardness):
HRC-62±1
Finish and design:
Front Mirror finish (Flat)
Handle Tyep:
Octagonal ebony
Joining Handle:
Unjoined / If you want to join, please check the joining request (free)
Saya (Sheath):
Saya (Sheath) can be option purchased.
Dominant hand:
Right-handed
Note of Use:
Since the blade can chip or break, do not attempt to cut, hit or chop frozen products or hard bones.
Maintenance:
this is a high carbon steel knife, the knife rusts easily,which requires special care. Apply oil if for long-term storage. Also use a sharpening stone to maintain the sharpness of the blade.
Remark:
Professional use (for top chef )
Display Goods:
Knife holder is not included.
Important Notice
*Colour and shape can differ from the photo and actual product due to camera and lighting.
*Also, you may see difference in colour due to the oil applied to protect from rust.
*For handmade products, there may be small scratches. There is no problem in use at all.
*In addition, vintage products may have minor scratches due to long-term storage.
*Wood products may age over time.
Please check the image well before purchasing.
Questions