White steel(Yasuki Hagane) is a standard steel that knife used by
professionals cook most often.
This steel is a high-purity steel with more impurities removed.
It is a knife that is characterized by sharp cuts, making it easier to
re-sharpen compared to blue steel(Yasuki Hagane) and making it a highly
cost-effective knife.


The Shigami-2(WS#2) Yoshihiro-Kasumi series is often the first product for those
who want to use a slightly better kitchen knife for home use and for professional
junior chefs.
Since it is carbon steel, it has a very sharp blade, so it has good sharpness,
but if it keeps water and salt, it will rust, so please be careful.
If you can't sharpen your kitchen knife, we don't recommend you to buy it.
Youtube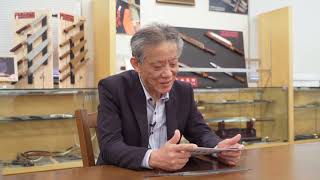 【堺技衆No.48】(株)山脇刃物製作所 堺の高級包丁の明日をリード
Specification
REMARKS&NOTE:
Image information takes precedence over textual information listed on the product page.
Rust prevention:
The rust-proof liquid is painted.
Use applications:
Suitable for slicing sashimi by drawing.
Country/Region of Brade:
Sakai / Osaka Pref./ Japan
Constraction of Knives:
SIngle Edge (Bebvel)
Steel Type of Cutting Edge:
Japanese Carbon Steel
Steel Name:
White #2 Steel (edge) and Soft iron
Forge Welding:
Double Welding (Hagane on Soft Iron)
Forging Method:
Free forging
Quenching Methood:
Traditional Pine Charcoal Quenching (Duble Steel)
Weight:
According to image
Handle Tyep:
Octagonal ebony
Handle length of image:
approx 130mm
Saya (Sheath):
Equipped Magnolia White Saya
Dominant hand:
Right-handed
Note of Use:
Since the blade can chip or break, do not attempt to cut, hit or chop frozen products or hard bones.
Maintenance:
this is a high carbon steel knife, the knife rusts easily,which requires special care. Apply oil if for long-term storage. Also use a sharpening stone to maintain the sharpness of the blade.
Product contains:
Saya(sheath)
Remark:
For professionals (can be used at home)
Important Notice
*Colour and shape can differ from the photo and actual product due to camera and lighting.
*Also, you may see difference in colour due to the oil applied to protect from rust.
*For handmade products, there may be small scratches. There is no problem in use at all.
*In addition, vintage products may have minor scratches due to long-term storage.
*Wood products may age over time.
Please check the image well before purchasing.
Questions