Type Of Pure Mikawa Shiro Nagura by Asano
There is seal of approval on stone by 浅野 (Asano)
*Koma (コマ):

This is the best grinding power and finest in Mikawa Nagura.
Famous for its use in polishing Japanese sword.
Also, it is difficult to obtain because the mining volume is small.
This one puts a very fine scratch pattern on the apex and delivers a very fine edge.
*Mejiro (目白):
It has the same fineness as Koma.
*Tenjho (天上):
Both grinding power and fineness are standard in Mikawa Nagura.
The mining volume is large and easy to use.
*Botan (八重ボタン):
Excellent grinding power in Mikawa Nagura.
But be sure to make mud before using it with the whetstone.
How to use the Nagura whetstone?

Please read Description

Youtube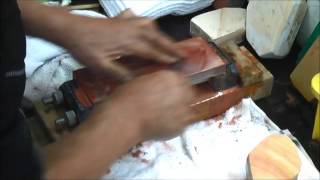 純三河白名倉
Specification
Manufacturer / Brand:
Pure Mikawa White Nagura (Asano Seal)
Status:
Unused (there is aging such as dirt)
Natural or Artificial:
Natural whetstone
Purpose of use:
Finish sharpening
Mining location:
Aichi Pref.
Stone pattern

The brand name is the difference between the stone color and the pattern

:
Tenjo:名倉 天上
With or without box:
Without Box
Description
How to use the Nagura whetstone
1)Usage for natural whetstone
Nagura plays the role of making a hard natural whetstone stand out.
Next, the Toguso (mud juice from the whetstone) is quickly put out from the natural whetstone
that is hard and hard to produce.
This is a function that promotes polishing.
It mitigates the phenomenon of slipping and stretching due to the compatibility of the natural whetstone
and the blade. In other words, using Nagura improves the compatibility of the whetstone and the blade.
2)How to use for artificial whetstone
Basically it is the same as using a natural whetstone, but with an artificial finishing whetstone,
it is also useful for removing "clogging of the part that sticks black as if it is slimy".
The cause of the black Toguso (mud juice from the whetstone) sticking to the whetstone is insufficient
water supply,but Nagura is an effective way to relieve the symptoms.
3)How to use as a whetstone for direct sharpening
The abrasive contained in Nagura is as effective as the quartz contained in the natural finishing stone.
Nagura is white because most of it is made of quartz powder.
Up to this point, the only natural whetstone that contains a mass of abrasive is Pure Mikawa White Nagura,
and it has the performance and sharpness as a whetstone for directly sharpening blades.
How to make mud juice from whetstones using Nagura
Water the finishing whetstone and rub Nagura on the whetstone surface to release the Toguso (mud juice)
containing the abrasive.
If you polish with this this juice, you can quickly get a good blade.
Nagura itself is softer than the natural finishing whetstone.
When rubbing against a natural finishing whetstone, Nagura wears out first, and the quartz inside does not
come out directly, but is crushed into fine particles and melts.
Questions