This knife was created by Taichiro Yamaguchi when he was young.
Most Japanese crafts begin with daily necessities that have taken root in
everyday life since ancient times and have been put into practical use.
Kyoto knife, which is a traditional craft of Kyoto, has also supported
Japanese life by changing its shape and function according to the times with
its high technology.

Yoshisada Kyoyuki, a master craftsman of Kyoto who inherits the 360-year
tradition, was founded in Higashiyama, Kyoto in the middle of the Edo period.
Since then, for 360 years, its high technology in making cutlery has been
passed down from generation to generation.
The 10th generation Blacksmith Taichiro Yamaguchi is now one of the few
engineers of Kyoto cutlery in Kyoto.

Uses high hardness steel for long-lasting outstanding sharpness

Each of the knives of Yoshisada is manufactured by craftsmen.
The hard blade, which is made by combining base iron and steel and
quenching at an ultra-high temperature, is durable and has outstanding
sharpness. You can use it as a cooking utensil for a lifetime while adding
regular re-sharpening and maintenance.
 

 



Youtube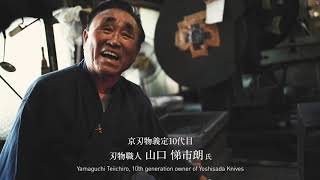 京之鍛冶師 義定10代目 山口 悌市朗インタビュー(FULL)
Specification
REMARKS&NOTE:
Image information takes precedence over textual information listed on the product page.
Rust prevention:
We ship with rust-stopping oil.
Brand Name:
Yoshisada of Kyoto blacksmith
Use applications:
Suitable for slicing sashimi by drawing.
Country/Region of Brade:
Kyoto Pref.
Blacksmith:
Taichiro Yamaguchi (Kyoto)
Sharpening workshop:
Yoshisada Knife
Knife Type:
Sakimaru Takohiki
Constraction of Knives:
SIngle Edge (Bebvel)
Steel Type of Cutting Edge:
Japanese Carbon Steel
Steel Name:
Blue #2 Steel and Soft iron
Forge Welding:
Double Welding (Hagane on Soft Iron)
Forging Method:
Free forging
Quenching Methood:
Traditional Pine Charcoal Quenching (Duble Steel)
Finish and design:
Damascus
Weight:
According to image
Dominant hand:
Right-handed
Note of Use:
Since the blade can chip or break, do not attempt to cut, hit or chop frozen products or hard bones.
Maintenance:
this is a high carbon steel knife, the knife rusts easily,which requires special care. Apply oil if for long-term storage. Also use a sharpening stone to maintain the sharpness of the blade.
Remark:
Professional use (for top chef )
Display Goods:
Knife holder is not included.
Important Notice
*Colour and shape can differ from the photo and actual product due to camera and lighting.
*Also, you may see difference in colour due to the oil applied to protect from rust.
*For handmade products, there may be small scratches. There is no problem in use at all.
*In addition, vintage products may have minor scratches due to long-term storage.
*Wood products may age over time.
Please check the image well before purchasing.
Questions